Safety
Delta Logistics has a long heritage of putting safety first in our workplace. We have made this commitment because the personal health and safety of each one of our employees is absolutely critical to our company and our continued success.
The Company is responsible for promoting a safety culture that encourages accident prevention and continually strives to improve its safety and health performance on a day to day basis.
All employees have a personal responsibility to understand, promote, and follow safe practices to ensure that their actions will not cause injury to themselves or to others. Working together effectively requires knowledge and understanding of procedures, safe ways of working, and proper attitudes. Employees are also responsible to notify their supervisor of potential or existing hazards to health or safety.
Our safety commitment has been prepared to serve as minimum procedures to help all employees work safely.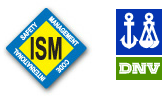 ISM Code Certification by
Det Norske Veritas – March 2011